Ministry of the Canadian Inland Mission Inc.,a Canadian Registered Charity, based on the Sunchild/O'Chiese Reserves in Alberta, Canada.
---
Recent Update to Volunteer Workers Articles Page.
---
Current Newsletter --November 2014 News...Including 4 pages of pictures. This summer is our 50th Anniversary serving in Missions. In one month this summer we had over 50 volunteer workers involved here at the mission on teams ministering, and this has been our busiest summer ever.
June 2014 News with lots of pictures.We didn't get to announce this newsletter when we got it up. It has 'lots' of material, especially of northern Outreach.
Articles Written by Volunteer Workers - Something New - Articles written by volunteer Workers - If you are interested in a short term missions experience you can read testimonies of others who have come here and helped out. This page is just started and under construction.
---
Home Page for archived newsletters back to 1998---Archived Newsletters
2009 Sunchild VBS Slideshow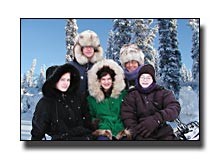 | | |
| --- | --- |
| Over the years our summer Vacation Bible School ministry has reached thousands of young people on numerous Reserves throughout Western Canada. Each year we are involved in about 4 VBS's. This link features pictures of several VBS's in different locations. | |
Highlights is archived material containing lots of information.
Photos which are optimized for your inkjet printer. Use for bulletin boards, Mission's prayer meetings, etc.
Selected " Best " Links

Rodger & Karen Rinker
P.O. Box 975
Rocky Mt House, Alberta T4T 1A7 Canada
Phone: 403-989-3715
Karen's Cell 403-895-0037
Rodger's Cell 403-846-5648
E-mail rinker@arcticoutreach.org

Canadian Inland Mission Head Office
Box 975
Rocky Mountain House, AB T4T1A7 Canada
Phone: 403-989-3715
Web Site Developed Nov. 12, 1998